Top 10 Barcelona favorite places of our manager Dorien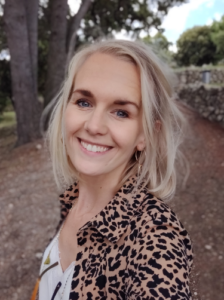 Meet Dorien, manager of Xventura in Barcelona.
In this blogpost our manager Dorien shares her favorite places in Barcelona with you. Dorien comes from the Netherlands and lived in Barcelona during a half year sabbatical in 2015. It was then that she fell in love with this magical city. In the summer of 2017 she moved back to Barcelona. Dorien loves to discover new places and that's one of the main reasons she loves living in Barcelona. "There is always a new restaurant, hip coffee place or adorable little street to discover" tells Dorien us. After working as a biketour-guide for more than two years she knows the city as the back of her hand. This comes in handy when she develops and organizes new Treasure Hunts for Xventura. In this blog Dorien takes you to her favorite places so that you can enjoy Barcelona like a local.
"Barcelona is such a beautiful city but most of the tourists don't go further than the Ramblas and Plaza Catalunya. This is such a pity because there is so much more to discover! For that reason, I will share some of my favorite places in and outside the city center with you."
Dorien's Favourite places in Barcelona
Funky Bakers · El Born
First things first. For my daily coffee boost I go to Funky Bakers. I am more than happy to have this bakery around the corner of our Xventura office. Besides great coffees they also make delicious sweets and sandwiches – the French Onion Soup Cheese Sandwich is my favorite. Oh and, I had to made a deal with myself that I can only have 3 of their chocolate chip cookies a week. #guiltypleasure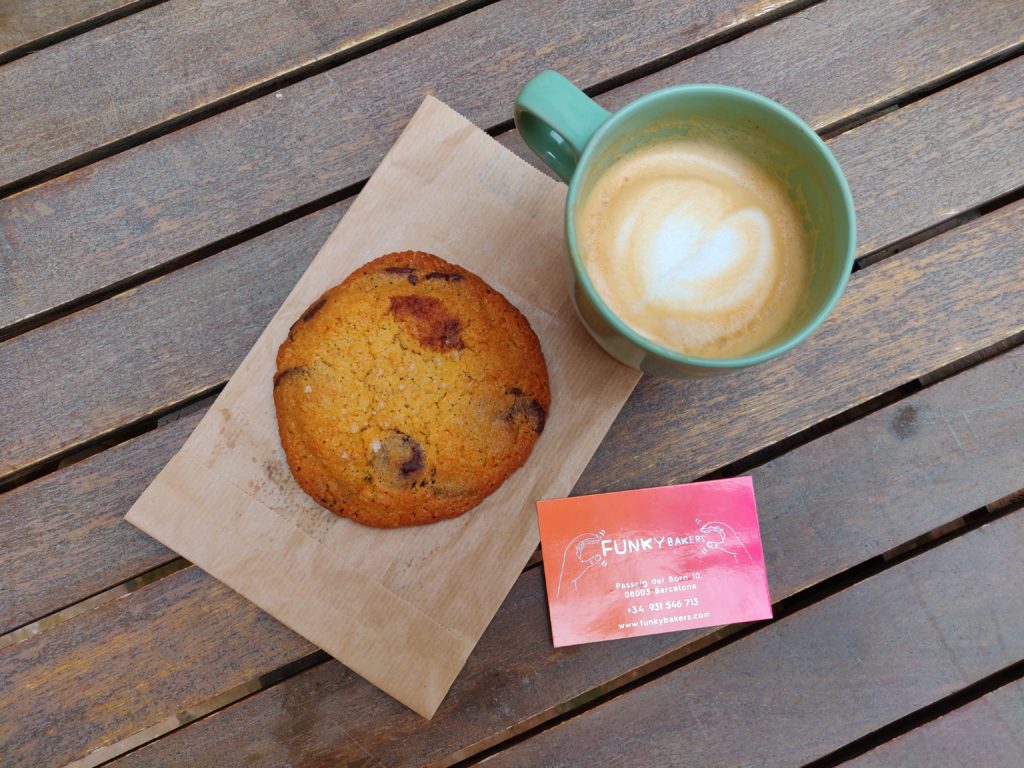 Favorite place in Barcelona for coffee and chocolate chip cookies
Cosmo La Central · Eixample
Not far from Passeig de Gracia you find Cosmo La Central. I recently discovered this two storage bookstore in the heart of l'Eixample. I love this place because of all of the books but even more because of the little cafeteria that is hidden on the second floor. I love to go here to read a book and drink a 'café con leche' under the trees on their cozy terrace that is facing the inside of a manzana (house block in l'Eixample). There is no wi-fi, so time to disconnect! Exactly how we like it at Xventura, because during our treasure hunts we also want people to disconnect. Therefor the games are played 100% offline. Cool right!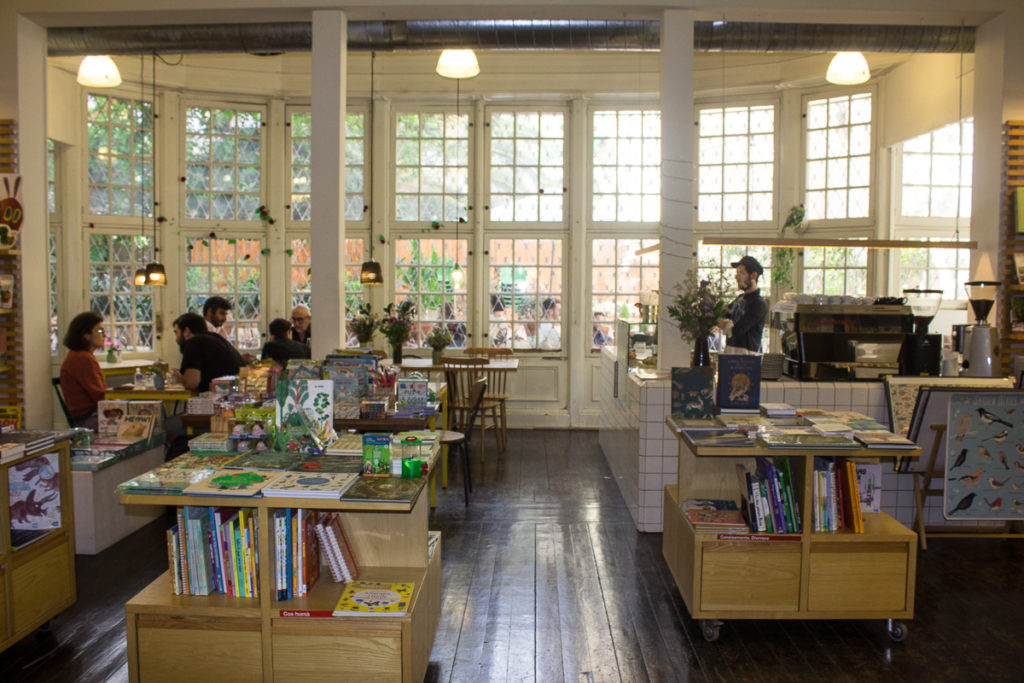 Caseta de Migdia · Parc de Montjuic
Far away from loud tourists and crazy traffic, you find this hidden gem. Caseta de Migda is located on the Montjuic hill in between the Castell and the cemetery. This little building used to be an electricity building until the city hall gave permission to make it into a bar. At night you can enjoy life music, an ice cold beer and some simple dishes. The building itself is tiny so you will sit at the terrace under the trees with views over Barcelona's port. Don't forget to wear your hiking boots because without a motorbike or car it's quiet a walk to get here! For current opening hours check: www.casetamigdia.es

Cementerio de Montjuic · Parc de Montjuic    
Not that far from la Caseta de Migdia you find Barcelona's biggest cemetery. When I have friends coming over that already know the city, I take them here. Succes guaranteed! The Cementerio de Montjuic is built on the Montjuic hills and, is for me, one of the most impressive places of the city. Generations of families found their eternal resting place on this hill. Walk from the upper part all the way down and follow the tour that is marked with QR codes. It's a super peaceful place and the views are amazing!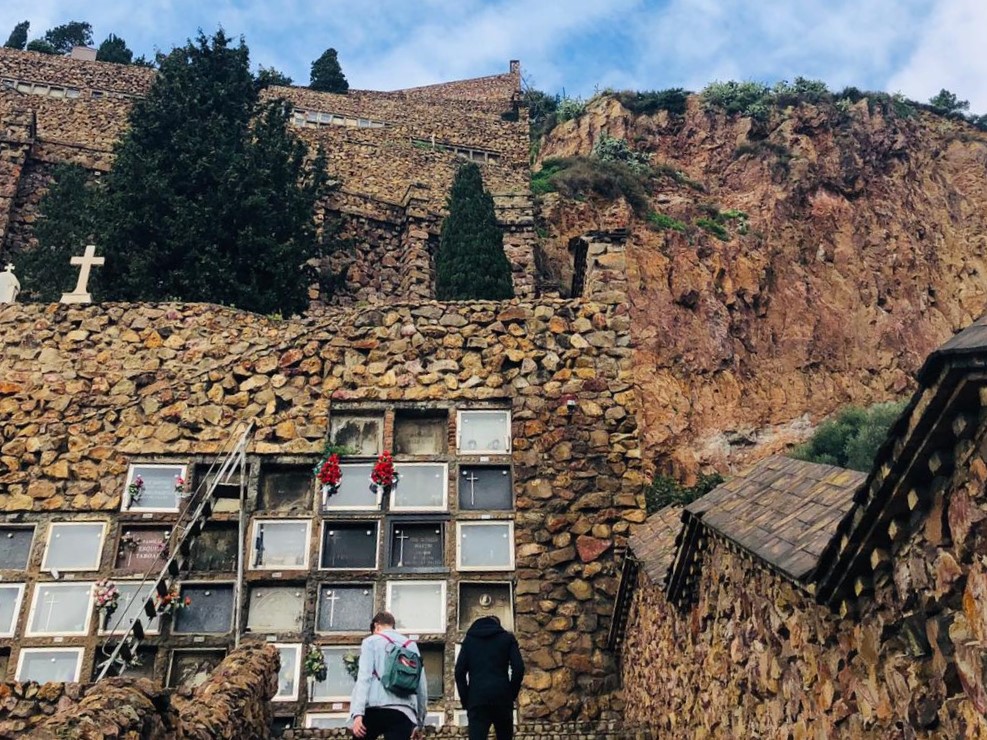 Las Vermudas · Gracia           
Vermouth = booming! I remember that my Spanish friend Ana was totally confused when I told her I was going ´for Vermut´ at 10 at night. She was pretty sure I was making a Spanish language mistake and meant 10 in the morning.  That was, for her, a way more logical time to drink this aromatized, fortified wine. Vermouth is an aperitif and is often served with olives and some chips. On weekends, you'll see groups of friends sipping vermouth on the terraces before having lunch at 2 or 3pm. At Las Vermudas every time of the day is a good moment to drink Vermouth. The owners are super friendly and will recommend you which Vermouth matches your taste. Oh, and last but not least: on Thursday nights and Sundays at noon there is live music. Go here!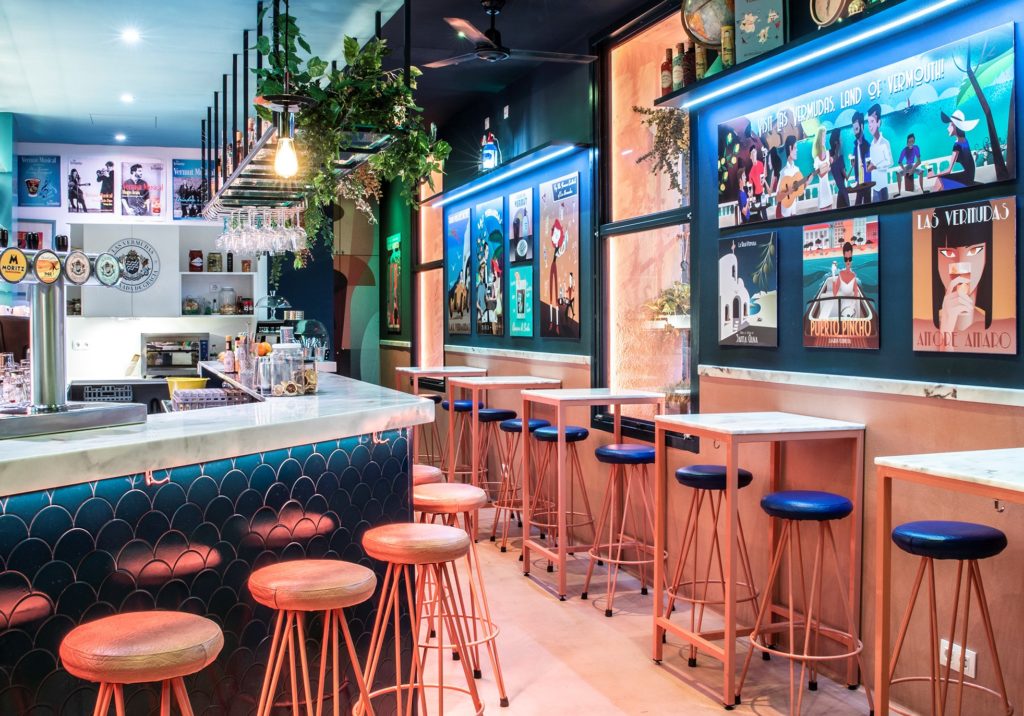 El Jardi · El Raval
You might start to find a pattern in my favorite spaces. Most of them are a bit hidden and have a quiet and cozy atmosphere. Coming from a village of only 1000 inhabitants Barcelona can still feel a bit overwhelming to me. At these moments I need some quiet me-time. I find this me-time in places like El Jardi. I already fell in love with this restaurant in Raval in 2015. This restaurant is hidden in the backyard of the old hospital Sant Pau where you can now find la Biblioteca de Catalunya (the Library of Catalonia). Go here for a drink or treat yourself on some of their delicious tapas.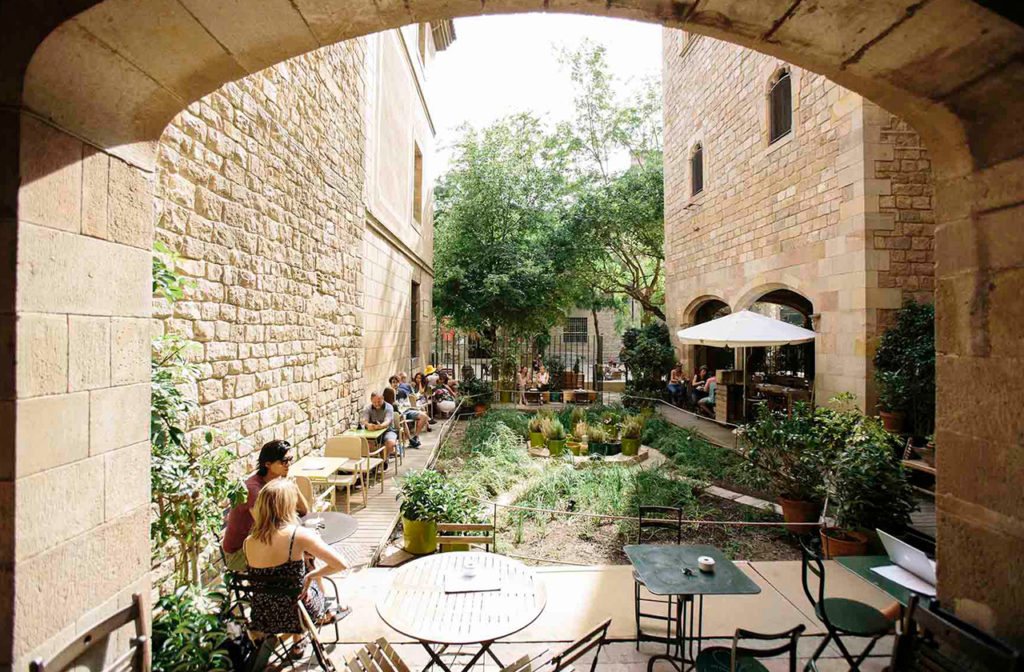 Little Streets of el Born · El Born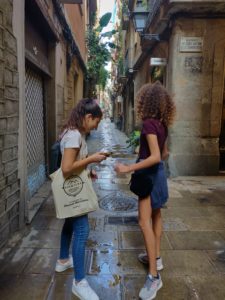 El Born used to be ´the undiscovered Barcelona'. With booming tourism, there is not that much left of this. Nevertheless, El Born is still one of my favorite neighborhoods. Only a footstep away of the Santa Maria del Mar (and of the Xventura office, lucky me!) you find my all-time favorite streets. 'Carrer dels Mirallers' and the little alleys around there are still a bit undiscoverd compared with the bigger streets around them.
Walking around here brings you back in time. Don't forget to bring your camera because there are a million of Instagram-worthy spots in these cozy streets.  Wander around and take a look in one of the small boutiques, concept stores or jewelers. Need a break? Take a cocktail pause at ´Dr. Stravinsky' or enjoy some amazing 'tapas with a twist' at 'Ziryab'. Curious to see more of beautiful el Born? Book Xventura's Treasure Hunt 'The Artist' and get the full experience while playing an exciting game!
Xampagneria · Barceloneta
In my list of  Barcelona favorite places to go Xampagneria can't miss. Okay, I have to admit that this place is pretty guiri**, but nevertheless it's one of my favorite places to spend time with friends. The official name of this bar is Can Paixano, named after the cava brand and that's why they only serve cava or water here. You can order the cava by glass, but the glasses are tiny and the bottles cheap so I would recommend to order a bottle (or 2, or 3…;-)).
If you order a bottle you have to get some food with it (the croquetas are delicious!). I assume that this is because they don't want you to get too drunk too fast. But actually I never checked if that was the reason. Even though this place is 70% filled with tourists, the waiters don't speak any English (or pretend they don't) so an extra plus for this place is that you will be able to practice your Spanish. Before you go it's good to know that
1. There are no seats
2. It can be pretty crowded at night
3. Xampagneria is open from 9.00 till 22.00.
4. You probably won't leave this place sober (and that's exactly why I love it so much!)
*Guiri: (Urban Dictionary def.) "A somewhat pejorative term for a foreigner, usually a tourist, who happens to be in Spain and stands out as being pretty obviously not a local"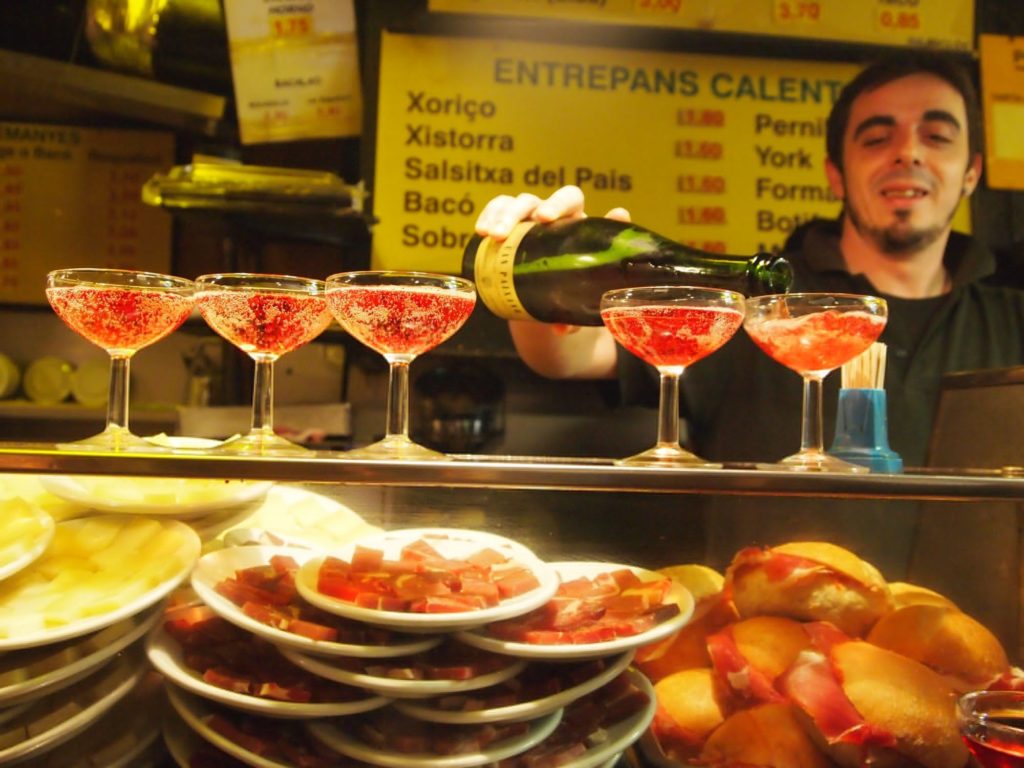 Jardines de Pedralbes · Sarria

This beautiful park is located outside of the city center what makes it pretty unknown by tourists. During the years 1919 till 1931 this was the residence of the royal family of Spain when they came to Barcelona and before that is belonged to Eusabi Guell, the very same that owned Park Guell. On the trails of the park you'll find people running, walking, reading a book and enjoying nature. I got to know this park during the annual 'Festival Jardins del Palau Reial of Pedralbes' that takes place every summer in June and July. I have never been to a festival in such a mysterious, magical and romantic place. Buy your tickets soon because the concerts sell out fast!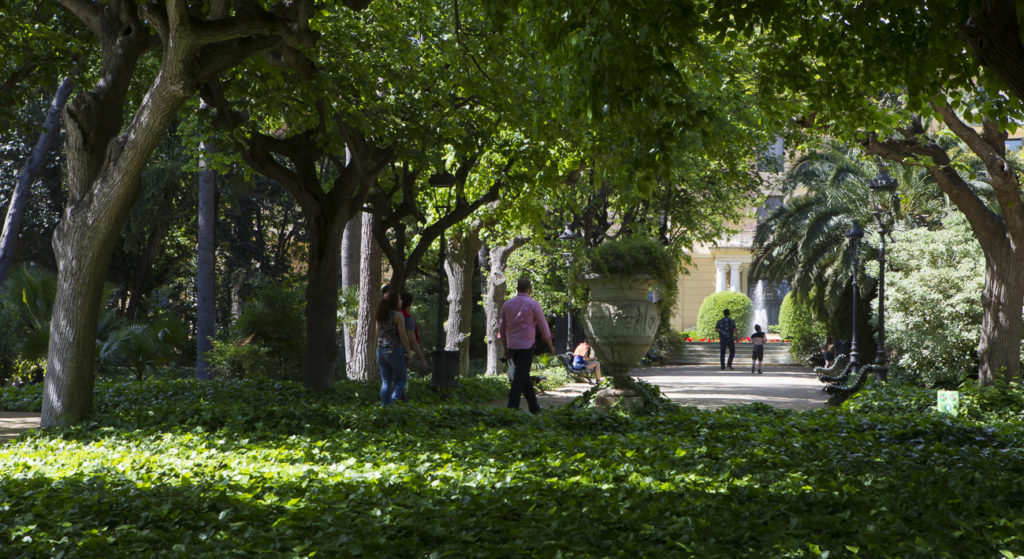 Barcelona tip número 10:
Recinte Modernista de Sant Pau · Baix Guinardó
This amazing building is a former hospital complex built between 1901 and 1930. The hospital is designed by Lluís Domènech I Montaner and is a UNESCO World Heritage Site since. I live around the corner of this amazing building and I like to tell people that I have views on the Hospital Sant Pau from my terrace. Well, that is true. Kind of. I don't tell them that I have to risk my life by hanging over the edge of my terrace to catch a glimpse of it but… A view is a view, right?!
Even though Hospital Sant Pau is just a 10-minute walk from la Sagrada Familia you won't find too many tourists here. Buy a ticket and enjoy the amazing architecture of the pavilions, look at the pictures of Barcelona in the early 20th century and go for a walk in the hospitals garden.This is one of my Barcelona favourite places!
Hospital Sant Pau – Amazing architecture
It was a blast to share my favorite places  in Barcelona with you.
I hope to see you around on one of Xventura's Treasure  !