Rotterdam is a vibrant and diverse city located in the western part of the Netherlands. With its modern architecture, lively cultural scene, and bustling port, it's a city that's full of surprises and unique experiences. Whether you're interested in history, art, food, or nature, Rotterdam has something to offer for everyone.
Are you planning a trip to Rotterdam and looking for some unique and exciting activities? Look no further! In this two-day schedule, we have included some of the best activities and experiences that the city has to offer.
10:00 AM: Start your day with a Treasure hunt by Xventura
To start your two-day trip in Rotterdam we would suggest: Xventura's Treasure Hunt. It is an interactive adventure game that takes you on a journey through the city's hidden gems, iconic landmarks, and historical sites. It's a fun and engaging way to explore Rotterdam's vibrant neighborhoods and learn more about the city's culture and history.
At the start of the treasure hunt, you will be given a set of clues and puzzles that will lead you to various locations throughout the city. The clues are designed to be challenging, but not too difficult, and will require some creative thinking and problem-solving skills.
The treasure hunt can be done in one or more teams, making it a perfect activity for friends, families, and corporate groups. The game is guided by one of the fantastic game masters of Xventura. They will elevate the experience to a whole new level. Xventura's Treasure Hunts are a unique and exciting way to experience Rotterdam. It's a fun-filled adventure that combines problem-solving skills, exploration, and discovery and is sure to leave you with lasting memories of your trip to the city. And the best part, the game is completely offline!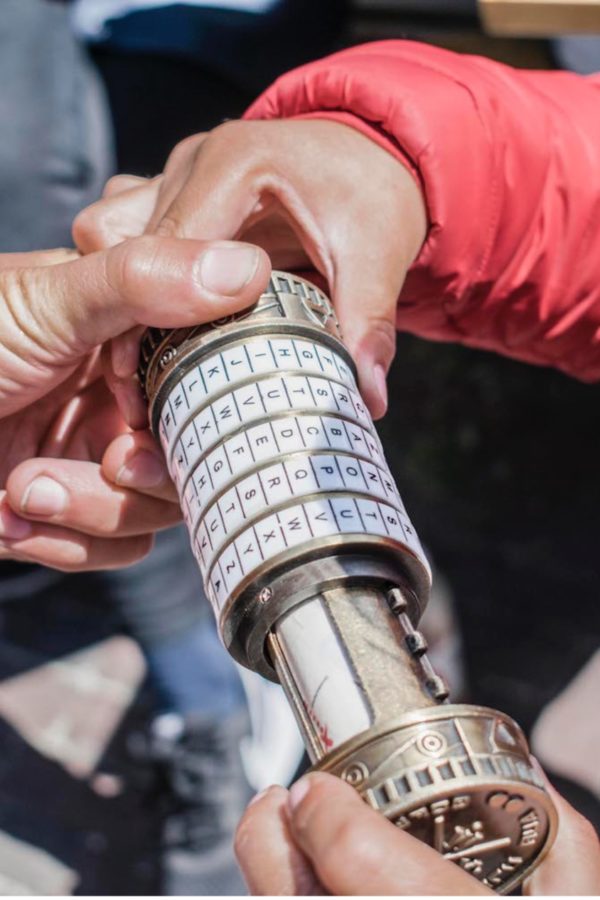 1:00 PM: After the treasure hunt, head to the Stadshaven Brewery for a taste of the city's best brews
If you're a beer lover, a visit to the Stadshaven Brewery in Rotterdam is an absolute must! The brewery is located in the historic Delfshaven area, which dates back to the 17th century when the Dutch East India Company was based here.
The brewery offers a variety of locally brewed beers, from traditional Dutch-style beers to more modern and experimental brews. They use only the best ingredients, and their beers are brewed using traditional methods, giving them a unique and authentic flavor.
During a visit to the brewery, you can take a tour of the facilities to learn more about the brewing process and the history of beer in Rotterdam. The tour includes a visit to the brewing room, where you can see the beer being brewed and learn about the different ingredients that go into making it.
If you're hungry, the brewery also offers a range of delicious snacks and small bites to complement your beer. From Dutch bitterballen to cheese platters and charcuterie boards, there's something for everyone. Still more hungry? The brewery also has a delicious lunch menu!
4:00 PM: Next, visit the Trompenburg Botanical Garden, a peaceful oasis in the heart of the city
This beautiful and spectacular garden is located in the Kralingen neighborhood, just a short distance from the city center, and is a perfect destination for nature lovers, gardening enthusiasts and anyone who is looking to relax for a bit.
As you wander through the garden's different sections, you'll discover a variety of landscapes, from lush forests to open meadows, ponds, and streams. You'll also see different types of gardens, including Japanese-style gardens, herb gardens, and rock gardens.
One of the highlights of the Trompenburg Botanical Garden is the collection of rhododendrons and azaleas, which bloom in the spring and create a spectacular display of colors and fragrances.
A visit to the Trompenburg Botanical Garden is a peaceful and tranquil way to escape the hustle and bustle of the city and connect with nature. It's a perfect destination for a relaxing afternoon stroll or a more in-depth exploration of the world of plants and gardening.
7:00 PM: Enjoy a unique dinner at the Euromast!
If you're looking for a truly unique dining experience in Rotterdam, we would recommend visiting the Euromast Tower, which is the tallest building in the city. From the Botanical Garden, you can take the Watertaxi to the Euromast! A super unique way of transport in Rotterdam and a real must-try. The tower has a rotating restaurant at the top, called the Euromast Brasserie, which offers stunning panoramic views of Rotterdam and the surrounding area while you dine.
The menu features a range of delicious dishes, from classic Dutch cuisine to international specialties, and the restaurant prides itself on using local and sustainable ingredients. The experience of dining in a rotating restaurant is truly one-of-a-kind and adds an extra element of excitement to your meal.
In addition to the restaurant, the Euromast Tower also offers a variety of other activities, including a zip-line, a climbing park, and an observation deck. It's a great way to combine a unique dining experience with a fun day out exploring the city.
10:00 AM: Start your day with Bite & Bike, a guided bike tour with delicious snacks
The tour includes stops at local markets, cafes, and shops, where you can sample some of the city's best food and drink.
The tour starts with a bike fitting and safety briefing, after which you'll hop on your bike and set off on your adventure. The knowledgeable and friendly guide will lead you through the city, taking you to different neighborhoods, landmarks, and cultural hotspots.
As you cycle through the city, you'll make several stops at some of the best food and drink spots in Rotterdam. The tour includes a variety of sweet and savory bites, including local specialties such as herring, bitterballen, poffertjes, cheese and chicken curry sandwich. The food stops vary depending on the tour, but they always include a mix of local and international cuisine, giving you a taste of Rotterdam's diverse culinary scene.
One of the highlights of the Bike & Bite tour is the opportunity to meet local entrepreneurs and foodies who share their stories and passion for food. They'll take you behind the scenes and show you how their food is made, giving you a unique insight into the city's food culture.

Need a small break? Koen's Ijssalon has the very best ice cream in Rotterdam. Koen the owner, learned how to make ice cream the Italian way, but since 2014 he is making it the Rotterdam way! Honest and tasteful without any artificial flavours or colouring. That means no bullshit and real flavours! Typical Koen. Oh, and they serve a really good espresso and for those who cannot choose between ice cream or coffee, no stress, they have the best ice coffee. Not the Starbucks one with a ton of sugar but amazing ice cream and good coffee.
Just a quick stop at this little place on the 'Zwaanshals' and you'll be recharged and ready for the next activity!

2:00 PM: After the bike tour, take a trip with Inside Rotterdam
Inside Rotterdam is a local tour company that offers a variety of tours and activities to help you explore the city in a more in-depth and immersive way. Their tours are led by knowledgeable and passionate guides who will show you the best of Rotterdam and share their insights into the city's history, culture, and local life.
One of the most popular tours offered by Inside Rotterdam is the "Architecture Walk." This tour takes you on a journey through Rotterdam's stunning modern architecture, from the iconic Cube Houses to the towering skyscrapers of the Wilhelminapier. As you walk through the city, your guide will explain the design, history, and significance of each building, giving you a deeper appreciation of the city's unique architectural landscape.
Inside Rotterdam also offers a variety of other tours, including a food tour, a street art tour, and a bike tour. Each tour is designed to showcase a different aspect of the city and give you a unique perspective on Rotterdam's history, culture, and daily life.
One of the highlights of the Inside Rotterdam tours is the opportunity to meet and interact with locals. The guides are all locals themselves and are passionate about sharing their city with visitors. They'll take you to local hotspots, introduce you to local entrepreneurs and artists, and give you insider tips on the best places to eat, drink, and explore.
Overall, the tours with Inside Rotterdam are a fantastic way to experience the city of Rotterdam. Whether you're a first-time visitor or a seasoned traveler, their tours will give you a deeper understanding and appreciation of the city's history, culture, and local life.

6:00 PM: End your day with a delicious dinner at one of Rotterdam's many excellent restaurants
From Michelin-starred fine dining to casual street food, the city has something to offer for every taste and budget. Rotterdam is a city with a vibrant culinary scene, offering a wide variety of dining options. Here is a summary of some of the different dining options you can find in Rotterdam:
Rotterdam has several Michelin-starred restaurants, such as FG Food Labs, Joelia, and Amarone, which offer a fine dining experience with innovative cuisine and impeccable service.
Rotterdam is located near the coast, so it's no surprise that there are many seafood restaurants to choose from, including Zeezout, Kaat Mossel, and The Fish Market. If you want to try traditional Dutch dishes, restaurants like HMB Restaurant, Gastrobar Hartig, and De Matroos en het Meisje offer a modern take on classic Dutch cuisine.
Rotterdam is a diverse city with many cultures and nationalities represented in its cuisine. You can find restaurants offering cuisine from all over the world, including Japanese, Italian, Turkish, Moroccan, and more. For a more laid-back and casual dining experience, Rotterdam has plenty of options, such as the Fenix Food Factory, which is a food hall with a variety of vendors, and Picknick, which is a popular brunch spot.
As you can see, Rotterdam is a city that's full of hidden gems and exciting adventures. Whether you're a solo traveler, a couple, or a family with kids, there's always something new to discover in this vibrant and cosmopolitan city. So, if you're planning a trip to the Netherlands and looking for an off-the-beaten-path destination, consider adding Rotterdam to your itinerary. With its unique blend of history, culture, and modernity, it's a city that's sure to leave a lasting impression on you.